Animal Reiki Volunteer Work in Affiliation with SARA:

If you are a shelter, sanctuary, rescue organization, or veterinary clinic looking for an Animal Reiki Volunteer, I want to hear from you!

I enjoy helping all animals — young or old, wild or domestic, living in a forever home or still looking — and their human caregivers. My goal as an Animal Reiki Volunteer is to create a space of healing filled with warmth, compassion, hope, unconditional love, and genuineness, where animals and the people who work with them can receive whatever they need most at this moment in time.

* * * * * *

SARA - Who We Are:

SARA stands for Shelter Animal Reiki Association. We are a group of Reiki practitioner and teacher volunteers committed to supporting rescued animals and their caregivers with the Let Animals Lead® method of Animal Reiki. With the use of Let Animals Lead® method, practitioners are able to offer a support system for animals and their caregivers by providing a positive space where they can relax, self-heal and re-balance. Our experience has shown that the Let Animals Lead® method can help animals become more adoptable, help their caretakers stay strong and calm in even the most difficult situations and support all aspects of healing.

Reiki promotes balance and harmony at the deepest levels. Providing Reiki treatments to an animal will support:
Stress-relief and relaxation;

Physical healing;

Mental/emotional healing; and

Spiritual healing (Reiki also supports the dying process).

Reiki is equally effective whether administered hands on or from outside the animal's kennel. For this reason, it may be an attractive option to provide support for animals who are too dangerous to handle.

Reiki is now used in numerous hospitals across the U.S. to support human patients. The same benefits Reiki brings to humans also apply to animals. We believe that with the support of Reiki, animals are able to not only heal from the physical and mental distresses that we can see with our eyes; but also, on a deeper level, become more open to hope and trust (regardless of their past histories). For many animals, Reiki helps them become ready to receive a forever family.

SARA Volunteers Will:
Allow animals to guide the Reiki treatment and work within the safety guidelines for a specific animal. Volunteers will either work from outside the kennel or if working in the animal's space, will always allow the animal to initiate physical contact.




Follow shelter protocols and rules.




Support the work of shelter veterinarians. Volunteers will not interfere with or undermine the diagnosis and/or medical treatment program of any animal.



* * * * * *

As Kathleen Prasad, co-founder and president of SARA explains: "If you are looking for a gentle and noninvasive technique for supporting [animal] wellness, look no further than Reiki. Reiki can create relaxation and peace in even the most stressed-out cases — thus it is ideal for [animals] living in loving homes, as well as shelter and rescued [animals]. Reiki can help to speed healing after surgery or illness, reduce side-effects of medicine and other treatments, relieve pain, improve behavior problems, heal anxiety-related problems and, when physical healing isn't possible, ease the transition to death.

"Because animal Reiki treatments are not dependent upon physical contact for success, they are ideal for use with shelter animals. Animals who are fearful, skittish, abused, or aggressive are ideal candidates for Reiki from a distance. Practitioners can offer Reiki quite successfully whether physical contact is used or not."

* * * * * *

There are SARA Animal Reiki Volunteers all across the world. For a list of volunteers in order by location, click here, choose About SARA from the menu bar, and then select SARA Teachers or SARA Practitioners from the drop down menu. To inquire about a specific volunteer, click here and fill out the Contact form (you may need to scroll down a little to see the form).
* * * * * *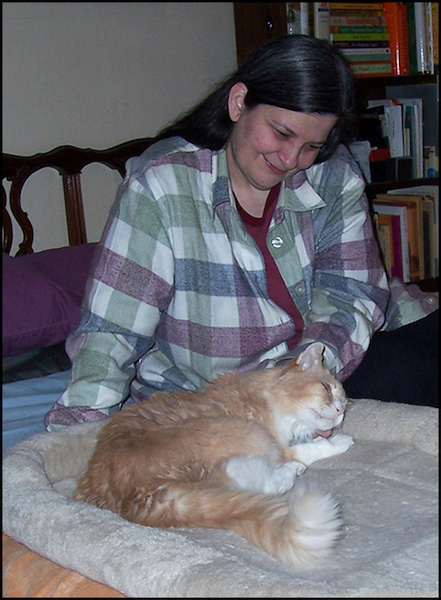 The calming effect of Reiki